Kawasaki announces KLX230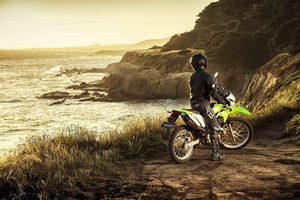 Kawasaki announces the KLX230. The all-new 2020 KLX230 slots in between the KLX140 and KLX250S and is aimed at trail riders.

The new KLX is road legal and LAMS approved and is due on NZ shores in August 2019.

Kawasaki's new KLX230 was purpose-built for serious dirt fun, with both its engine and frame designed from the beginning with trail riding in mind. The all-new 233cc air-cooled, 4-stroke Single engine delivers ample low-mid range torque, and its simple construction makes it ideal for trail runs. The all-new compact perimeter framer was designed to offer the handing stability needed for confident trail riding.

KX inspiration can be found in the slim ergonomics and aggressive styling. The new, highly capable dual purpose machine (with 21″/18″ wheels) – equipped with Kawasaki's first dual-purpose ABS – is powerful, light, and manoeuvrable, making it an ideal partner for attacking the trails.

Providing a light, manoeuvrable package was a key consideration. Designing the simple air-cooled engine concurrently with the easy handling perimeter frame helped keep the KLX230 compact, while the balance between the engine and frame results in performance that can be enjoyed by a wide range of riders.