Courtney Duncan crowned Women's Motocross World Championship (WMX) champion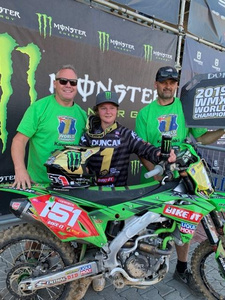 New Zealand's Courtney Duncan has become the first Kiwi woman to win a FIM World MX Championship title, when she won the first race in the Women's Motocross World Championship's final round in Turkey overnight. She is flanked by her Bike It Dixon Racing Team owner Steve Dixon (left) and mechanic Nick Matthews (right) with the special gold helmet her sponsor Just 1 presented her with post-race.
New Zealand motocross sensation Courtney Duncan has done it – crossing the finish line of the Women's Motocross World Championship's first race, punching both firsts in the air, index fingers pointed skyward in the international symbol for number one.
After riding immaculately throughout the MXGP of Turkey's 20-minute, plus two laps race, she stamped her global dominance on the 10 other WMX riders, winning it by a whopping 12.818secs and earning herself an unassailable lead, with one race still to run tonight (NZ time).
An emotional Duncan entered the pit lane area on her Kawasaki KX250, where her British-based Kawasaki team Bike It Dixon Racing Team (DRT), friends and family were waiting to envelope her with hugs. She shouted out one word that summed up the three long, hard years she has been waiting for this moment.
"Yeah!"
Tears of joy quickly spilled into her helmet as she absorbed all that she has achieved.
"What a day! What a day! It's indescribable right now. There were some big emotions after the race. So much gets built into this. This goes way back to when I started when I was 7-years of age. Everything goes into this. So much effort from my family – they did so much for me growing up to get me to this point. All my team, my sponsors everyone back over home. I have a huge team at home, and everyone plays a huge part in this championship. It was definitely a team effort. I can't thank everyone enough," Duncan says.
The 23-year-old Otago rider could not have scripted her maiden championship victory any more perfectly. After topping both timed practise outings, she was confident lining up in the start gates in the 30degC heat, facing the well-watered circuit for the WMX's first time racing at the Afyonkarahisar track.
She started off steadily, taking her time to find the right lines, initially settling into fourth place. Duncan then demonstrated her racing smarts by gradually picking off her main championship rivals German Larissa Papenmeier and Dutch woman Nancy Van De Ven over the first five laps.
There was a heart-in-mouth moment as Duncan went wide, making a outside passing move on Van De Ven and wobbled in a deep rut, but she held strong and began hunting down Denmark rider Sara Andersen.
Although the pair concertinaed for the lead over half a lap, Duncan soon out-classed Andersen, shot out in front and never looked back.
"Moto one was really good. I got asked did I feel pressure going into the race and I've got to be completely honest with you, lining up I felt so comfortable and confident. After the sight lap, I knew the track had changed a lot. I had it in my mind that I was going to warm up into the race, so I took a few laps, found some good lines and made the passes. Then I just kind of cruised and maintained the lead. It was good enough to win the championship in the first moto. It feels amazing! Duncan says.
"I don't know how to describe it – the journey to get here has been tough. Man, it's been tough! After winning my first pro race on debut [in 2016] I felt like I couldn't do nothing wrong. Since then it's been a downward slope but this year, we changed that and we turned it around and made it happen," she adds.
Duncan picked up the maximum 25 points to bring her total to 214, which is 31 clear of Van de Ven on 183, meaning the last race at 8.30pm tonight (NZ time) is merely a formality. The race win today was Duncan's eighth victory out of nine races this season, where she has been imperious, except for the second race in at the first round in Valkenswaard, Netherlands, where she slipped to fourth.
Duncan credited her new team, new-found motivation and commuting back home to New Zealand between rounds for her iron-clad control of the 2019 WMX season.
"I haven't had to think about the races. I haven't been waiting for them. I've been putting in the work and enjoying life outside of it,''she says.
Contacting Duncan in the early hours of the morning here in New Zealand, it was late in the evening in Turkey. She was still at the track, with her team, soaking it all in.
"I'm enjoying the night, just celebrating and enjoying this championship. Everyone put so much work into it – it was a big team effort. It's going to take a bit of time to fully settle in, what we have just achieved. I know I'm going to look back and realise that this was pretty special."
Like many Courtney Duncan fans who couldn't make it to Turkey, Kawasaki New Zealand's Managing Director Shane Verhoeven was watching Duncan's race live on MXGP-TV.
"The team at Kawasaki NZ are incredibly proud and ecstatic of Courtney's domination of the 2019 WMX Championship. After many trials and tribulations over the years it is all the more satisfying to see her achieve her goal and to have played a small part in her success this season. Well done to Courtney and we look forward to seeing her back in Kiwi-land to celebrate her victory," he said.
Motorcycling New Zealand (MNZ) general manager Virginia Henderson echoed Vehoeven's sentiments, adding that the organisation was honoured that Duncan races under the MNZ banner.
"Courtney truly demonstrates that winning is never easy and that you have to persevere and work hard to achieve your dreams. I'm sure MNZ joins the whole New Zealand nation in congratulating Courtney on this extremely well-deserved championship victory."
Duncan races again tonight in the final race 10 of the WMX's five-round championship.
HOW TO WATCH
Visit MXGP TV via link below. Subscription for weekend coverage costs approx. 11 Euro.
https://www.mxgp-tv.com/videos/1194416/mxgp-of-turkey-2019-live
Courtney Duncan's race times in Turkey
Race 2: Sunday, September 8 11:30AM (20 mins + 2 laps) NZ time Sunday, September – 8.30PM
2019 Women's Motocross World Championship's calendar
Round 1: March 31st Valkenswaard, Netherlands
Round 2: May 19th Agueda, Portugal
Round 3: July 28th Loket, Czech Republic
Round 4: August 18th Imola, Italy
Round 5: September 8th Afyonkarahisar, Turkey
PHOTO CREDIT: MXGP
COURTNEY DUNCAN AND BIKE IT DRT HAVE CLINCHED THE MANUFACTURERS' WORLD TITLE FOR KAWASAKI WITH A THIRD CONSECUTIVE DOUBLE-WIN FOR THE 2020 KX250 IN THE FIM WORLD WMX WOMEN'S MOTOCROSS CHAMPIONSHIP
The Kiwi girl was already assured of the individual World title after her victory in yesterday's first moto at Afyonkarahisar in Turkey but everyone in the compact English team was determined to end the series on a high with yet another moto and overall GP win. And they did it in style, the lone Kawasaki girl grabbing the holeshot to race clear of the chasers at several seconds a lap, celebrating victory by an overwhelming twenty-nine seconds with a classical whip. Courtney completed the individual championship thirty-six points ahead of her closest rival and Kawasaki take the Manufacturers' title by twenty points. It was their fourth consecutive two-moto-win maximum GP score and the third-in-a-row, an unbeaten run of success, for the incomparable 2020 KX250 which Kawasaki and the DRT crew introduced mid-summer.
Courtney Duncan: "It was so cool to clinch the title yesterday and take away the pressure. I had nothing to lose so I just put down the hammer today; I had a good flow, could have fun, throw some whips and embrace the moment. What a way to end the series! Nine motos out of ten and four GPs out of five! The whole year has been so amazing. I was in a dark spot last year, in a rut mentally and physically, but Steve took a chance on me and I really gelled with the team and the bike from day one. We committed and we succeeded! I'm having as much fun this year as I did when I started riding way back at seven years of age; that's so important and it's what brings results. We switched to the 2020 at Loket in July and the results speak for themselves with six wins from six starts; it's such a nice bike. I'm just so grateful to my family for all they did to make this possible for me and it's great to have them here this weekend to share this moment. My thanks too to Kawasaki, DRT, Monster Energy and everybody who has supported me all year."
The championship double was not only a stunning success for Kawasaki – the fifth title in the history of FIM WMX racing – and for the New Zealander but also for Steve Dixon. The DRT team owner has played a pivotal role in world motocross for more than a quarter of a century with innumerable GP victories, podiums and medals but the 2019 success is his first World title.
Steve Dixon: "The whole season was fantastic. We didn't run a rider in the WMX for ten years but I heard Courtney was looking for a change; I put it to Steve Guttridge at Kawasaki Motors Europe, he was OK on the idea, so we took it from there. My first job was to work out what had happened to Courtney in the past and put it right. She was so relaxed this year and really gelled with the KX250 from day one. We got the 2020 model with even better performance mid-summer and Courtney really liked it. I think the results speak for themselves because this is a standard bike with an after-market pipe you can buy in the shops and she's won every race. Courtney has signed for another two years so we can go on from here to even more success. I have had a lot of seconds and thirds in the world, even a Nations victory, in the past and now in my thirtieth year we've achieved a World title at last."
Steve Guttridge (Kawasaki Motors Europe Racing Manager): "We are delighted that together the Dixon Racing team and Courtney have delivered this World title for Kawasaki. The level of racing in the WMX class gets higher every season but with Courtney's confidence in the KX250 she could display a dominance this season which was a pleasure to watch. We are already looking forward to the challenge of defending the title together in 2020."
Courtney Duncan Wins

...
NZ's Courtney Duncan poised to lift debut World WMX title this weekend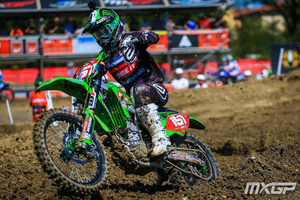 New Zealand's motocross fraternity will be holding its breath, crossing its fingers and willing Otago-born rider Courtney Duncan on to victory this weekend, as she closes in on her debut Women's Motocross World Championship (WMX) title, at the final round in Afyonkarahisar, Turkey.
It has been three long years for the star Kiwi rider, as she has worked tirelessly towards her long-cherished dream to become a world champion. If all goes her way, the 23-year-old can wrap up the title after the first race on Saturday. Sitting 23 points ahead of Germany's Larissa Papenmeier, Duncan would claim the maximum 25 points if she won and her championship lead would become unassailable.
Riding for British-based Kawasaki team Bike It Dixon Racing Team (DRT), Duncan was in a relaxed, focused frame of mind as she left England for Turkey today.
"I'm going to enjoy it – embrace the moment – and go out there and give it everything I've got. Everything I've done leading up to this point has put me in the position I'm in today. I feel like I've done everything I can, to be as ready as I can be, for this weekend. I've got a good feeling," she says.
While the MXGP of Turkey was a brand-new event for the other categories last year, it did not feature on the WMX calendar, meaning the track will be new to Duncan and her rivals. She plans to head into this weekend the same way as she has approached the rest of her dominant 2019 season, where she has won seven out of her eight races.
"It's important I nail the processes that lead to this championship and that starts with qualifying on Saturday morning and then obviously going through to moto 1. I need to nail a good start and put myself in a good position."
Duncan says it has been a "tough, long road" since she burst onto the WMX scene in 2016, going 1-1 in her Qatar debut.
"Since then there's been a lot of set-backs. A lot of injuries. A lot of doubts and that was weighing on my mind the last few years, so to be able to get this monkey off my back and to be able to finally tick it over would mean everything to me. Going through what I've gone through, it will be even sweeter."
"Winning the WMX title would honestly mean the world to me. I've had this goal since I was such a young kid. All the way to the point where I was telling my school teachers – telling my parents at the dinner table – that I'm going to be world champion one day," Duncan adds.
The last time a New Zealand woman held a world motocross title was when Katherine Oberlin-Brown (nee Prumm) won the Women's World Cup in 2006 and 2007. The class was elevated to FIM World Motocross Championship status in 2008.
Motorcycling New Zealand general manager Virginia Henderson says the organisation is "thrilled to have another one of our women members competing at this level on the world stage. It is certainly an inspiration to future champions and promotes the growth of women in our sport. Courtney has all the Motorcycling New Zealand members and fans backing her to bring home the Women's World Championship trophy this weekend."
Immediately after celebrating her third consecutive set of double-race wins at Imola,
Italy, last month – successfully racing the new 2020 KX250 to victory in the last two rounds – Duncan extended her contract with Kawasaki Motors Europe and the Bike It DRT squad into the 2020 season.
"I'm very thankful and excited to announce that I have extended my contract with Kawasaki and DRT through 2020. I really feel at home with the team and feel the KX250 suits me perfectly. This is just the start and I'm looking forward to seeing what we can continue to achieve together in the future," Duncan says.
Kawasaki New Zealand's Managing Director Shane Verhoeven says the company has been proud to support Duncan's campaign.
"Having Courtney show so much success this year has been truly inspirational for all Kiwis and for the team at Kawasaki. We look forward to her lining up this weekend to give it her all and wish her all the best!"
HOW TO WATCH
Visit MXGP TV via link below. Subscription for weekend coverage costs approx. 10.96 Euro.
https://www.mxgp-tv.com/videos/1194416/mxgp-of-turkey-2019-live
Courtney Duncan's race times in Turkey
Race 1: Saturday, September 7 16:05PM (20 mins + 2 laps) NZ time Sunday, September 8 – 1AM
Race 2: Sunday, September 8 11:30AM (20 mins + 2 laps) NZ time Sunday, September – 8.30PM
2019 Women's Motocross World Championship's calendar
Round 1: March 31st Valkenswaard, Netherlands
Round 2: May 19th Agueda, Portugal
Round 3: July 28th Loket, Czech Republic
Round 4: August 18th Imola, Italy
Round 5: September 8th Afyonkarahisar, Turkey
PHOTO CREDIT: MXGP
Father's Day Giveaway
BE IN TO WIN!
TO ENTER: Go to our facebook page or In Store.
Prize Drawn- 12 noon 30th August 2019
Alan Thoresen on his Black Thunder Racing Kawasaki ZX14R Wins the NZDRA 2019 National Drag Racing Series
Alan Thoresen riding his Kawasaki ZX14R under his Black Thunder Racing NZ Banner has succeeded in winning another New Zealand National title with the completion of the 2019 NZDRA National Drag Racing Series.
Leading up to the final, Alan Thoresen placed first in Modified Bike in Southern Nationals run by the Nelson Drag Racing at Motueka.
The Motueka Strip is basically at Sea Level and with better air the Kawasaki ZX14 Engine tends to develop slightly more power with these conditions, whereas at higher altitudes such as at Taupo there is a slight decrease in engine performance.
These variations affect the ETs in the ¼ mile and the consistency with Dial ins.
All competitors are faced with this, and it is a matter of who has the skill to adapt and race consistently to the conditions at the various tracks, and ensuring your machine is tuned to give optimum performance.
On entering the Southern Nationals, Alan was holding the No2 Position in the National Series, with 38 points separation to the No1 Spot.
With a good fuel map loaded in to the Kawasaki ZX14 ECU via the Power Commander, it gave good power and with good reaction and consistency Alan was able to defeat his competitors in each round through to the final, giving him the win in Modified Bike in the NZDRA Southern Nationals, and moving him to the No 1 Position in the National Series with a 43 point lead over the second position.
The Final round of Modified bike at the Nationals in Masterton had a strong field of 16 motorcycles, which Alan managed to get through to the third round where unfortunately he red lit on the tree. With the points gained through the previous rounds Alan had achieved enough points to win the 2019 NZDRA National Points Series in Modified bike with a lead of 43 Points over Tony Gray in the No 2 Position on his Hayabusa.
At the recent NZDRA National Awards Held in Wellington, Alan Thoresen was presented with:
The 2019 NZDRA No 1 Championship Title trophy In Modified Bike.
The Award for the Longest Distance Travelled throughout the 2019 NZDRA Series.
Life Membership of the NZ Drag Racing Association.
Alan Thoresen has been riding the Kawasaki ZX14 Motorcycles since 2006 with many successes over the years with many National Records being set along with Multiple National titles in Drag Racing, and is more often than not, the top performing Street bike at Motorcycle Drag Meets including the Kawasaki Drag Day.
Over the years Alan has retained his Kawasaki ZX14 Motorcycles and has four of the machines, a 2006, 2007, 2008 and a 2014, which he rides and races.
Alan Thanks His Sponsors, Castrol NZ, Katana Batteries, Hamilton Motorcycle Centre, Godiva Screens, Mcindoe Group, W White – RK Chains, Darbi Accessories – HJC Helmets, Violets Coffee@ Pit Lane, for their continued support of his Racing.
DUNCAN EXTENDS CONTRACT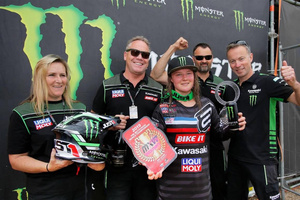 Immediately after celebrating her third consecutive double-moto GP success at Imola Courtney Duncan extended her contract with Kawasaki Motors Europe and the Bike It DRT squad into the 2020 season.

The 2019 season has been excellent so far for both Courtney and DRT manager Steve Dixon, who collected the podium honours at each of the last three rounds of the FIM World WMX Women's Motocross Championship and have led the series since the Portuguese GP in May. Victorious in every moto bar one at the opening round of the series, the twenty-three-year-old New Zealander quickly adapted to her new bike and team and is now close to her first-ever world title as she leads the series by twenty-three points headed for the final round in Turkey on September 7/8. Successfully racing the new 2020 KX250 to victory in the last two rounds, Courtney was so happy with her new environment that she has already extended her contract for the future.

Courtney Duncan: "I'm very thankful and excited to announce that I have extended my contract with Kawasaki and DRT through 2020. I really feel at home with the team and feel the KX250 suits me perfectly. This is just the start and I'm looking forward to seeing what we can continue to achieve together in the future."

Steve Dixon: "First I want to thank Kawasaki Motors Europe and Steve Guttridge for their support to our team; it's been so nice to work with Courtney this season. She's a nice girl and, although she was already successful in the past, she is quite dominant at the moment; our strategy this year was to try to win the series and to provide her with the best support. We all know that nothing is done until the last race, but so far it's been an exciting season for us and we'll continue to work hard together in the future."

Steve Guttridge (Kawasaki Europe Racing Manager): "Courtney's arrival this season at Kawasaki and within the DRT set-up was an instant success. She has gelled with both the KX250 and the team and we can see positive proof in her winning performances on the track so far this season. She is a pleasure to work with both on and off the track, so we are very happy that she has committed herself to continue to race with Kawasaki in the future."

Words and photos: Kawasaki EU
Eli Tomac Claims 450 Championship
Monster Energy Kawasaki's Eli Tomac has done it. He wrote his name into the history books—and he did so one round early. After finishing 1-1 at Budds Creek Motocross Park, and putting the figurative nail in the coffin, the 26-year-old became only the fourth rider in history to complete the three-peat in the premier class of the Lucas Oil AMA Pro Motocross Championship, joining Ricky Carmichael, Tony DiStefano, and Gary Jones.

As the #1 passed by the mechanics area with one turn to go in the second moto, Tomac got the message "3 TIME CHAMP!!!" on his pit board from mechanic Brian Kranz.

"I didn't know until the last lap, I still thought I needed one more spot on someone...gosh, what a way to finish off, 1-1," Tomac said on the podium afterwards.

"To get it done today and a race early is amazing...to go three championships in a row is pretty special and something I am proud of," he said later. "Each championship has been special in its own right, but man am I happy we got it done today. I can't thank the entire Monster Energy Kawasaki crew and the entire Kawasaki motorcycle corporation enough for all of the hard work and support all season long."

ET3-Peat

Words: Racer X
Photo: KHI Japan
19 Aug 2019