GONZALEZ WINS AS CARRASCO FINDS NO LUCK AT HOME
THE OPENING ROUND OF THE NEW-LOOK WORLDSSP300 CHAMPIONSHIP TOOK PLACE LAST WEEKEND AT THE SPANISH CIRCUIT OF MOTORLAND ARGAON, WITH A WIN FOR KAWASAKI AND TWO PODIUM PLACES FOR THE NINJA 400 IN TOTAL.
Spanish rider Manuel Gonzalez, only 16 years of age, took his Kawasaki ParkinGo Team to the very top step of the podium at his home race.
Last year he scored three podiums in this exciting class, designed around young riders, but to record his first WorldSSP300 race win a home left the teenager from Madrid almost speechless. He had also taken pole position after Superpole Qualifying, with a new best lap of 2'06.938.
Title challenger in previous season Scott Deroue (Kawasaki Motoport) had a remarkable ride from 14th on the grid to third place, picking off rivals at just the right time to get him into the leading bunch in the final lap.
Ana Carrasco (Kawasaki Provec), the reigning champion, was well in the multi-rider fight for the podium places but was unlucky to fall on lap six after being hit from behind, losing the chance to start her title defence in style. Like all her competitors she will have eight more chances to go all-out for race wins, in a season that runs from Motorland in April to Losail in October.
Ana, the first woman to win a full FIM World Championship in roadracing, does not leave her home around without any reward. She set a new lap record on lap two with a 2'07.487 on her impressive run through the leading positions.
With over fifty young hopefuls trying to take ultimate glory in the FIM Supersport300 World Championship in 2019, qualifying has to be split into 'A' and 'B' groups, with the fastest few from each group joined on the final starting grid for the race on Sunday afternoon by the top rider from a 'last chance race on Saturday.
A few talented riders needed to qualify for the grid via that last chance race route, and even some others like Deroue and Carrasco found it relatively tough in qualifying. No less than 36 riders started the 11-Lap race today.
Bruno leraci (Kawasaki GP Project) was another top ten rider at Motorland on a a Ninja 400, in eighth place. Robert Schotman (Motoport Kawasaki) just missed out on the top ten places in 11th. No fewer than 11 of the top 20 riders were on Kawasakis today.
Proof of just how competitive this class can be found in the fact that the top seven rider were covered by just 0.891 seconds at the chequered flag in Motorland.
In the current championship standings with just one race gone, Gonzales leads with 25 points, Hego De Cancellis has 20 and Deroue has 16. The next round will take place in a few days time, as Assen in the Netherlands, with raceday on Sunday the 14th of April.
Manuel Gonzalez, stated: "I do not have words for this race win because it was so difficult – but I enjoyed it a lot! The last lap was so tough because the slipstream in the main straight was difficult to manage. But I overtook De Cancellis in the last corner. Thanks to all the team for the hard work they have done here. See you all at the next races."
Scott Deroue, stated: "Yes it was incredible to come through for a podium. This weekend was quite hard and in qualifying I was not really good. I was not the best place on the grid so I knew we had to do something. I was just pushing, pushing – like unbelievably hard I think this is one of my best races ever. I already won some races in this class but I think this race was the best ever."
Ana Carrasco, stated: "It is a pity to not score. We had some issues in the practices sessions and I started the race from the fourth row the race itself I felt to be very fast, and comfortable, so much that we actually set a new lap record. Some bikes had better acceleration but in braking and top speed I was super strong. In the crash two guys in front of me touched and I had to close the throttle – then some hit me from the back. It is a shame because I am sure I could have finished on top. I just wanted to say thanks to all the people that come to see me here at Motorland, to my team and Kawasaki, I am on the bike again in only four days, at Assen – I can't wait!"
AVALON BIDDLE CREATES NZ HISTORY WITH TITLE WIN
Rangiora's Avalon Biddle (Kawasaki ZX6R), comfortable winner of the Supersport 600 class in this season's New Zealand Superbike Championships.

APRIL 7, 2019: Canterbury's Avalon Biddle created history when she wrapped up the New Zealand Supersport 600 title in Taupo on Sunday, the first female to win this coveted Kiwi motorcycling crown.

The 26-year-old racer from Rangiora has previously won major trophies in New Zealand and abroad too, but this perhaps ranks as among her most cherished.

It was a landmark win when she snatched victory in the New Zealand TT Championship Trophy race at the third round of five in this season's New Zealand Superbike Championships at Hampton Downs last month and her momentum continued on with her claiming the national Supersport 600 title at the final round of the series at Taupo's Bruce Mclaren Motorsport Park on Saturday and Sunday.

Biddle (MTF Finance Kawasaki ZX6R) had started the weekend at Taupo a commanding 29 points ahead of her main rival for the title, Manukau's Toby Summers (Carl Cox Motorsport Kawasaki ZX6R) – the dynamic duo totally dominant in the class – and there was a heart-stopping moment for Biddle when she crashed out of the first of her three Supersport 600 races on Saturday afternoon.

Fortunately for her – and unfortunately for Summers – he also crashed in an unrelated incident in the same corner.

With neither of them scoring points in that outing it meant the margin between them remained intact and so Sunday's two 600cc races would decide the outcome.

Further misfortune for Summers occurred in race two with another non-finish – that race being red-flagged twice and eventually declared a non-scoring race – and so Biddle was crowned champion with a race to spare.

Biddle and Summers had been so far in front of the other riders this season that none of this affected the overall outcome and Summers was still able to finish the season runner-up, with Te Awamutu's David Hall winning the final race of the weekend and clinching the third podium spot for the series.

"I never expected this today. After being taken out in the first corner of the first race here at Taupo and not scoring any points and then the next race being red-flagged twice and nobody scoring any points … it was just lucky that I had such a points buffer to start the day," said Biddle.

"When I first started racing 600s I never thought I'd ever be in this position."

"I wasn't thinking so much about creating history. I just wanted to win for all the people who have supported me for so long, Cheryl and Phil London from WIL Sports, Kawasaki New Zealand and MTF Finance have backed me and I wanted to reward them. I have respected and looked up to guys who have won this in the past, riders such as Craig Shirriffs, Sam Smith and my partner Jake (Lewis) too.

"There was so much going on this weekend. We were really well prepared with two bikes ready to go and my mechanic Ozzy (Feilding's Chris Osborne) is probably the hardest working man in the paddock and I'm thankful to him. I had good speed this year too, with four out of five pole positions won. It all came together for me."

She said she intends to race in Australia later this year, with "plans to be announced … watch this space".

Other class winners after the weekend's final round of the series at Taupo were Glen Eden's Daniel Mettam (Superbikes); Palmerston North's Jacob Stroud (Supersport 300 class); Papamoa's Leon Jacobs (250 Production class); Jacob Stroud (Superlites); Whangamata's Ben Rosendaal (650 Pro Twins); Australia's Yanni Shaw (125 GP); Hamilton's Jesse Stroud (GIXXER Cup) and Taupo's Andy Scrivener and Tina McKeown (sidecars).

Words by Andy McGechan, www.BikesportNZ.com

Photos by Kawasaki NZ
DUNCAN JOINS KAWASAKI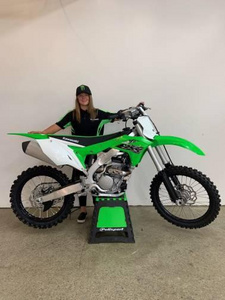 Kawasaki New Zealand proudly welcomes Otago's Courtney Duncan to the Team Green stable, in time to compete in the 2019 FIM Womens MXGP!

Shane Verhoeven, Managing Director for Kawasaki New Zealand says "Courtney Duncan has been in the running for the Womens MXGP title for the past three years. Now signing with Bike It DRT Kawasaki Race Team for 2019 we are excited to see what she can do"

Courtney Duncan: "I'm stoked to announce my signing with the Bike It DRT Kawasaki race team. They've given me an awesome opportunity and I'm very motivated to put them on top in 2019. A fresh start is what I needed and I couldn't be more excited than to do that with Kawasaki. Kawasaki New Zealand have also come on board to support me at home, for which I am also very thankful."

Kawasaki is excited to be the brand that now supports Courtney Duncan with her dream and ambition to become the next Kiwi World Champion!

Courtney says "I'm very excited to have made the switch to Kawasaki and I'm looking forward to a great season together.

I'd like to say a big thank you to everyone who made this happen. Bring on 2019"

Courtney will contest the opening round in Valkenswaard, Netherlands, on the 31st March riding the Kawasaki KX250.

It will be exciting for NZ Motocross to see a lot more of Courtney racing and competing in New Zealand between her GP's in Europe. We wish her the best of luck.

Courtney Duncan
Born on the 26th of January 1996
2018: 4th with five moto wins and two GP victories; missed the last 2 GPs
2017: 3rd with four moto wins and two GP victories
2016: 5th with five moto wins and three GP victories; missed 2 GPs

WMX 2019 calendar
March 30-31: Valkenswaard (Netherlands)
May 18-19: Agueda (Portugal)
July 27-28: Loket (Czech Republic)
August 17-18: Imola (Italy)
September 7-8: Afyon (Turkey)