MOTOCROSS - South Island 2019
DATE

HOST
EVENT
VENUE
STATUS
INFO
August
10th-11th
Christchurch Offroad MC Club
Tracktion 100%
Canterbury Champs
Southbridge, Canterbury
Confirmed
11th
Postponed
17th-18th
South Canterbury M/C Club
South Canterbury MX Champs
Timaru, Canterbury
Confirmed
25th
Southland Motorcycle Club
Southern Series MX - Round 1
Invercargill, Southland
Confirmed
25th
North Canterbury Dirt Riders Club
Fun Day Fundraiser for
Laken Proctor
Mt Venus, Omihi
Canterbury
Confirmed
More
31st
Canterbury Mini MX Club
Super Mini MX Champs - Day 1
Darfiled, Canterbury
Confirmed
31st
Nelson Motorcycle Club
Top of The South MX-Day 1
MXevents MX Park, Tasman
Confirmed
September
1st
Nelson Motorcycle Club
Top of The South MX-Day 2
MXevents MX Park, Tasman
Confirmed
1st
Canterbury Mini MX Club
Super Mini MX Champs - Day 2
Darfiled, Canterbury
Confirmed
1st
Koarse Motorcycle Club
Big Bush Grass Track Moto
big bush road milton,
Otago
Confirmed
More
8th
Central Otago Motorcycle Club
Southern Series MX - Round 2
Poolburn, Otago
Confirmed
14th-15th
Marlborough Motorcycle Club
George Holland Memorial MX
Waihopai Valley,
Marlborough
Confirmed
15th
Ashburton Motorcycle Club
TT Race
Ashburton, Canterbury
TBC
22nd
South Otago Motorcycle Club
Southern Series MX - Round 3
Balclutha, Otago
Confirmed
28th-29th
Christchurch Offroad Motorcycle Club
36th Annual Michael
Godfrey Memorial Motocross
Omihi, Canterbury
Confirmed
October
6th
Gore & Districts Motorcycle Club
Southern Series MX - Round 4
Gore, Southland
Confirmed
6th
Ashburton Motorcycle Club
TT Race
Rakaia, Canterbury
TBC

12th-13th

Marlborough Motorcycle Club
Marlborough MX Champs
Seddon, Marlborough
Confirmed
13th
North Canterbury Dirt Riders Club
Have A Go Day
Omihi, Canterbury
TBC
19th
Mosgiel & Districts M/C Club
Southern Series MX - Round 5
Outram, Otago
Confirmed
19th-20th
Nelson Motorcycle Club
MTF Nelson Mini MX Champs
Richmond, Tasman
Confirmed
November
9th-10th
Westland Motorcycle Club
Sand Dunes Motorcross
Mananui (Hokitika),
West Coast
Confirmed
OMCC Hill Climb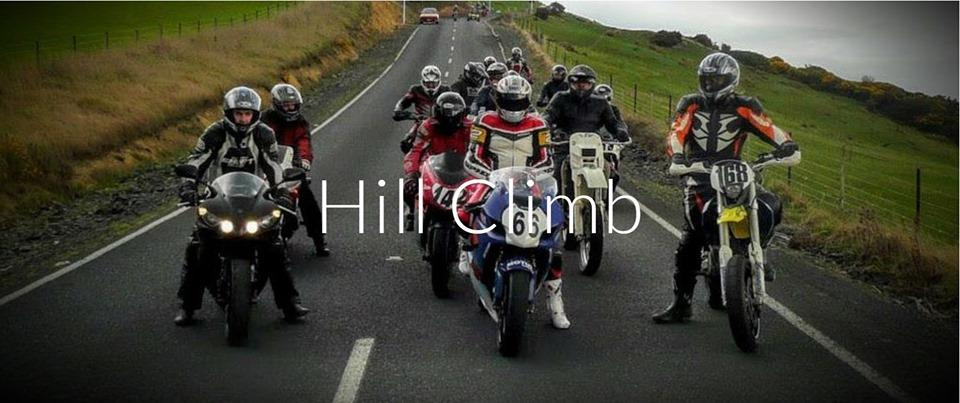 Tri Series Rnd 1 - Law Road Hill Climb
| | |
| --- | --- |
| | Sunday, August 25, 2019 at 8 AM – 4 PM |
41st Southern Series 2019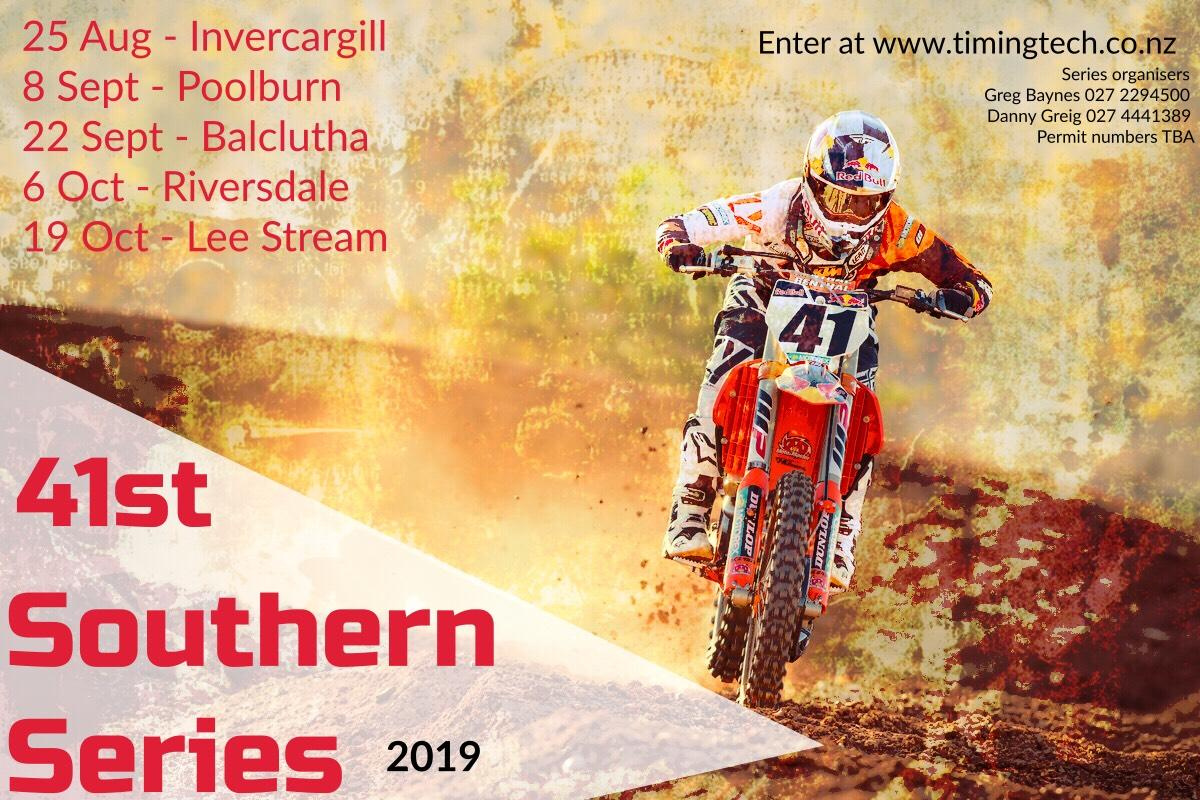 ...
Waitaki Valley Motorcycle Rally 2019
Waitaki Valley Motorcycle Rally 2019
| | |
| --- | --- |
| | Sep 13 at 12 PM – Sep 15 at 11 AM |
Hosted by Waitaki Recreational & Boating Club

Tickets

www.waitakiclub.org
Details
Situated in the middle of everywhere, Parsons Rock Camping Area in the Waitaki Valley will make a stunning lakeside venue for our first Waitaki Valley Motorcycle Rally. With lots of fun events to be held over the weekend plus entertainment both nights, this is sure to become a must attend rally in NZ. On the Saturday night we have The Yardmen playing (same band as Burt Munro), we have other motorsport static and active displays plus a number of best bike prizes and other activities to join in on. Bar on site each day plus food vendors. NO BYO - NO GANG PATCHES.
Magpie Madness Rally 2019
...
2020 Trail Ride
2020 Trail Ride
Public
Hosted by Wanaka Trail Ride
| | |
| --- | --- |
| | Saturday, March 28, 2020 at 8:30 AM – 3:30 PM |
Jolly Road
Tickets-clubhubssl.com
2020 DATE CONFIRMED!!

One of the most popular trail rides in the South Island. We are coming back for a 6th year and we are excited already!

The Wanaka Trail Ride offers a unique and stunning, all-abilities trail bike ride over Deep Creek, Long Gully & Lindis Peak Stations. Riders have the rare opportunity to explore private high country farmland, whilst helping to raise funds for Wanaka Primary School and Montessori Children's House.

Tracks will include family, intermediate, advanced and expert trails as well as a pee-wee track for children.

We look forward to welcoming back return riders and new participants to the event. Keep a lookout for updates on our web site and Facebook page. Don't forget to note this date in your diaries 😊

Photo Credit Meantime Images